The Manatee Amazon Explorer's flexibility as a comprehensive navigation adventure that takes visitors to many different visitor sites within the Ecuadorian Amazon Basin or jungle —visitor sites that you would forcibly not be able to visit if you stayed only in one place— is, quite clearly, one of the most notorious differences between visiting the Amazon Basin with us or choosing one of the many fine ecolodges in the area. That fact becomes even more attractive when taking into account that we work with first-rate guides, that the variety of excursions and itineraries we choose is ample and compelling, that our excellent service and professional savoir-faire creates a pampering, relaxing vacation for the most demanding guests, that we couple all our efforts with a heartfelt commitment to the communities and nature of the Amazon.
The Manatee Amazon Explorer is fully equipped and maintained in order to handle the most challenging conditions and circumstances, and is manned by experienced and conscientious expedition staff and crew. The canoes used for daily shore landings are rugged and versatile and are operated responsibly by experienced personnel. Onboard you will be fully briefed on all pertinent safety issues and concerns, as well as our environmental policy; passengers also receive appropriate and detailed briefings before each landing.
DECKS AND CABINS:
FIRST DECK
Includes lobby, dining room, and crew quarters.
SECOND DECK
Where you'll find the boutique and standard suites.
THIRD DECK
Features the bar, lounge, and deluxe suites.
OBSERVATION DECK
Where you'll enjoy the outdoor hot tub, lounge, and extraordinary views.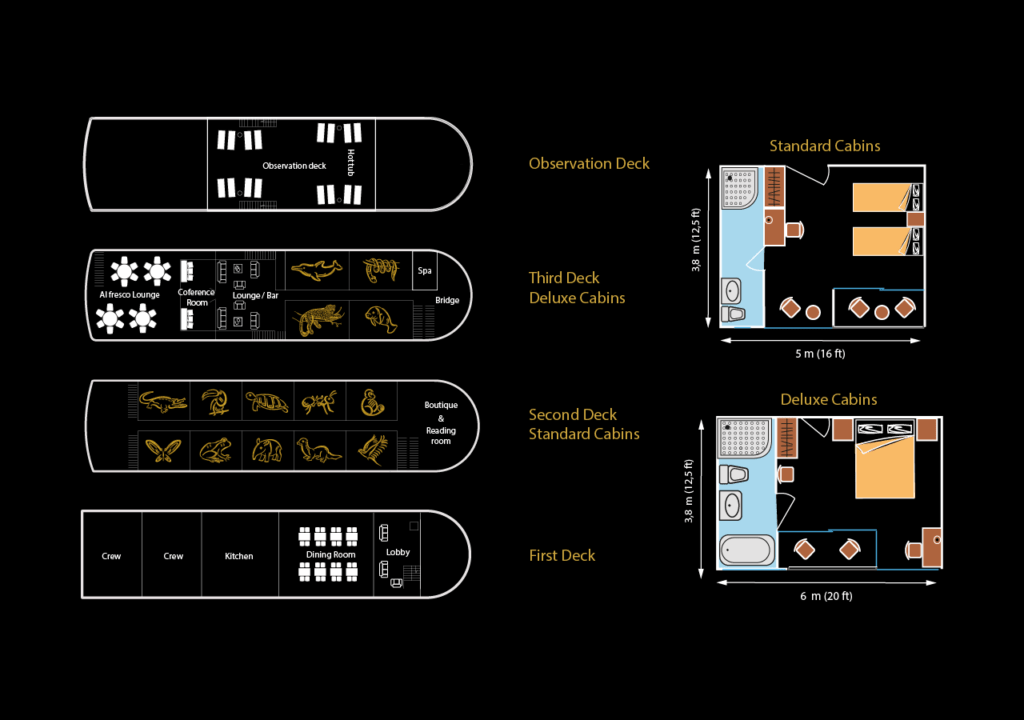 TECHNICAL  SPECIFICATIONS
| | |
| --- | --- |
| Built | 2017 |
| Port of embarkation | Coca, Ecuador |
| Vessel´s Registry | Ecuador |
| Type of vessel | River Expedition Vessel |
| Length | 121  feet / 37 m |
| Beam | 30 feet / 8.5 m |
| Draft | 0.75 meters |
| Gross Tonnage | 214 tons |
| Cruising speed | 12 knots |
| Electricity | 110 / 220 volts |
| Engines | Cummins x 2 / 350HP |
| Generators | Cummins x 2 / 75 KVA |
| Water | 10000 -liter water treatment plant |
| Safety | GPS tracking by the Ecuadorian Navy, Radio communication with separate battery pack, satellite phone, life jackets, flares and signals, fire extinguishers and smoke detectors in each cabin, automatic defibrillator on board. |
| Launch boats | Two fiberglass ecologic canoes equipped with four-stroke low emission engines; constant radio communication with the main vessel. Total capacity 30 passengers. |
| Crew | 10, including a cruise manager, English-speaking naturalist guides, 4 native guides, captain and crew members. |
| Accommodation | 10 standard suites ( 2 triples) and 4 deluxe suites ( own Jacuzzi at Deluxe suites) . All with air conditioning  system, private balcony, ceiling to floor windows, hair dryer, safety box. |
| Suites Features | Full sized beds, bathroom with shower, toilet, sink, cabinet, and a basket of toiletries, bathrobes. Hot water available  24-hours. |
| Social Areas | Bar lounge/ conference room indoor. Dining Room. Outside Lounge with "al fresco" dining facilities. Sundeck with lazy chairs. Boutique, Outdoor Jacuzzi. |
ITINERARIES
This is a journey that takes us into the endless heart of biodiversity, the Amazon Basin. Given the remote and pristine nature of this jungle, the very best way to explore it is by navigating down the Napo River on a carefully – designed vessel set to explore the Amazon in style.
The M/V Manatee Amazon Explorer allows our guests to experience unparalleled adventures in total comfort. Journey with us down freshwater rivers, both whitewater and black water, and encounter different Amazonian ecosystems, including the possibility to observe fascinating animals such as pink river dolphins, manatees, caimans and piranhas, as well as hundreds of native bird and primate species.
Cruise (Fri – Mon) – 4 days / 3 nights
Cruise (Mon – Fri) – 5 days / 4 nights
Cruise (Fri – Fri) – 8 days / 7 nights
Cruise (Mon – Mon) – 8 days / 7 nights
FOR RATES AND PROMOTIONS, PLEASE CONTACT US