Elite 
The Galapagos Elite was specifically designed for sailing the sapphire waters of the Enchanted Islands.
Book now
A sleek, twin-hulled catamaran, it will provide its guests with a steady, safe cruise without the rocking and swaying common to the older, single-hulled yachts that dominated the island cruise industry for decades.
In addition to better stability, the design of the Elite allows for more space for everything on board, including social areas, suites and premium suites. Guests of all ages, will enjoy the ample, semi-covered sky deck, the al fresco dining area and the cozy bar-salon.
KEY FEATURES:
All suites have private outdoor balconies and panoramic sliding glass doors.

180 degree panoramic view from the interior lounge.

All convertible suites have a king size bed or two double beds.

Integrated social areas blend indoor and outdoor designs.

Cozy bar- salon.

Social areas feature extended outdoor balconies.

Al fresco dining area.

Suites' restroom with frosted glass wall for plenty of natural light.

The sky deck is generously proportioned, featuring a whirlpool bath and exterior bar.

Super – structure of 38 meters (124 feet) by 14 meter (46 feet) wide

Two panoramic doors to access the catamaran's main areas.
DECK PLANS AND CABINS
MAIN DECK  
Meals are always made from fresh ingredients, locally provided from farms on the islands whenever possible. Special dietary needs are never a problem for our chefs, and kids' meals are available. Your onboard chef prepares three delicious, nutritious meals per day: breakfast and frequently lunch will be served buffet-style, with a more elegant sit-down dinner served in the al fresco dining area on the sky deck, weather permitting.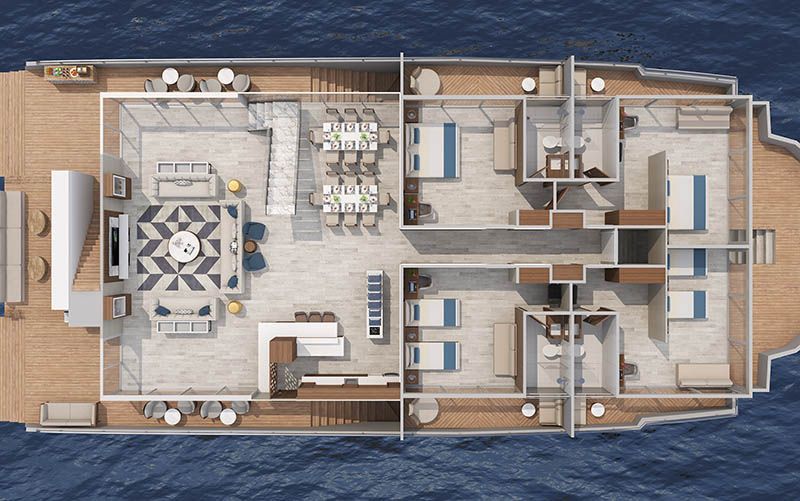 UPPER DECK 
We are particularly proud of the panoramic windows featured in each suite: unlike the heavy, round porthole windows of the older yachts, each suite on the Elite has grand windows offering panoramic views. Your window to the world of Galapagos is a floor to cielling wall of tempered glass, with a glass sliding door to get to your balcony. Each morning and afternoon will bring a different stunning Galapagos seascape view from your room!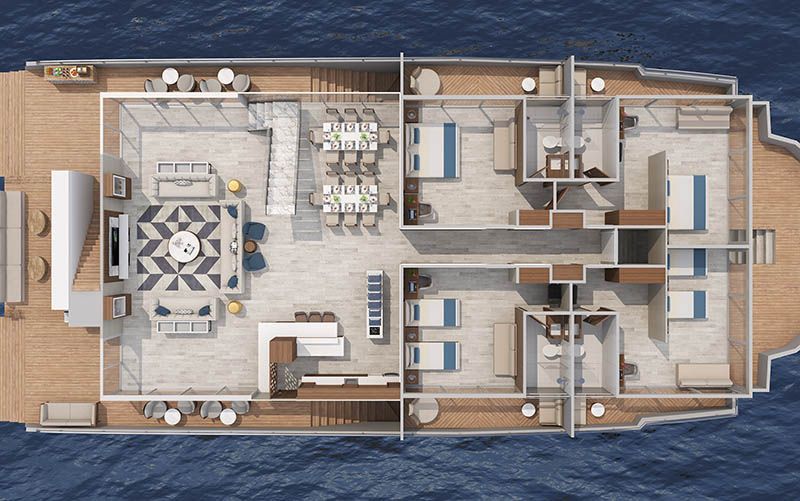 SKY DECK
Watch the Galapagos Islands float by from the Sky Deck's hot tub, bar and ample social areas for lounging, tanning or socializing.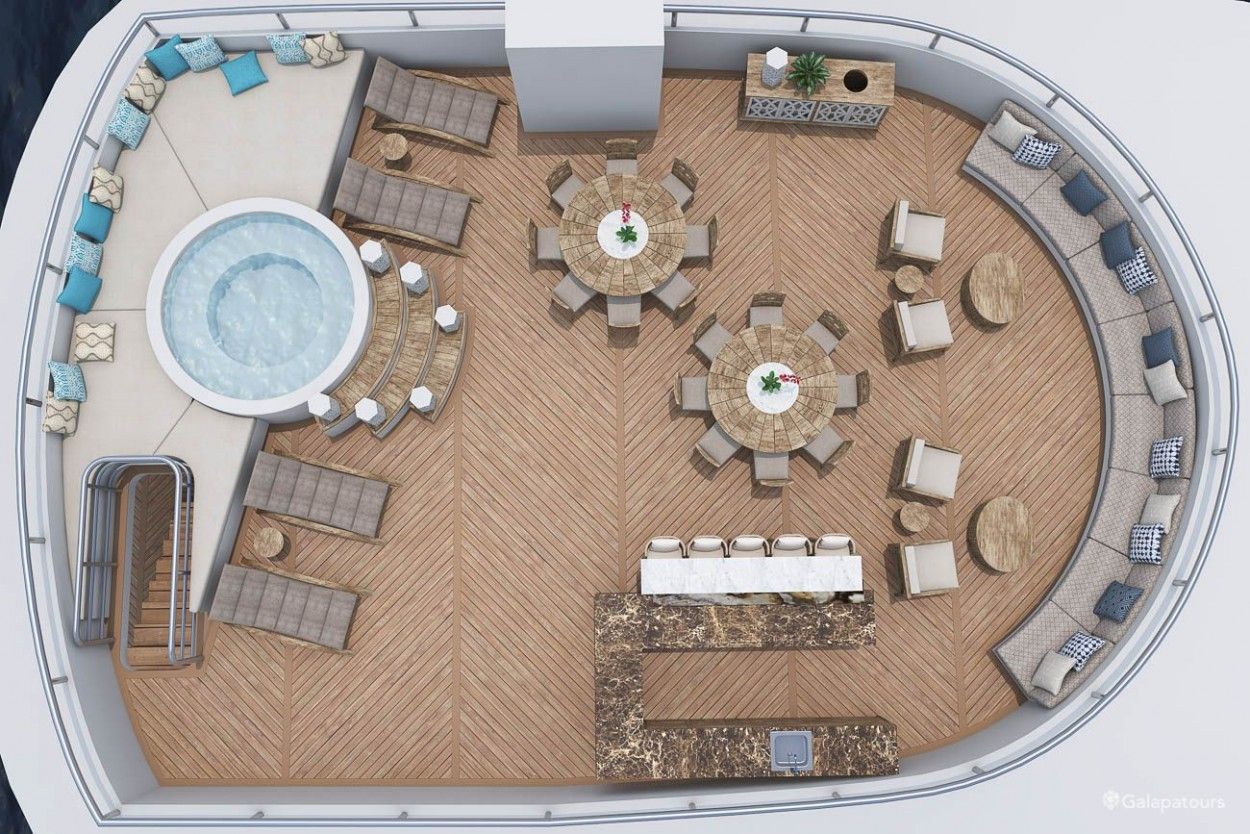 TECHNICAL SPECIFICATIONS  
Year of construction:

July  2019

Length

37.5 mt / 123.03 ft

Beam

13.5 mt / 44.29 ft

Draft

1.90 mt / 6.23 ft

Speed

12 knots

Capacity

16 passengers

10 members

Bilingual Galapagos National Park Naturalist Guide

Cruise Service Officer

Propulsion

2 x Marine Generator Drive Engines – 500 HP each

Electricity

110 V and 220 V

Accommodation

Suite Size

:

 35 mt2/ 377 ft2 – 37 mt2/ 398 ft2

Single cabin: 19 mt2/ 204.5 ft2 approx

Suites location:  4 Golden Suites – Main Deck / 4 Golden Suites  + 1 Single cabin – Upper Deck
ITINERARIES
Cruise C (Sat–Tue) – 4 days / 3 nights
Cruise (Tue–Sat) – 5 days / 4 nights
Cruise A (Sat–Sat) – 8 days / 7 nights
Cruise B (Sat–Sat) – 8 days / 7 nights
FOR RATES AND PROMOTIONS, PLEASE CONTACT US
Prices are subject to change without prior notice
Itineraries and activities subject to change without prior notice.