Anakonda
The Anakonda Amazon River Cruise is the only luxury cruise liner in the Ecuadorian Amazon.
Book now
The Anakonda Amazon River Cruise is the only luxury cruise liner in the Ecuadorian Amazon.
Travel on board the M/V Anakonda, the only luxury ship in the Ecuadorian Amazon and experience the Ecuadorian jungle in a most unique way! Visit the remote and pristine areas where few have had the opportunity to travel, and interact with the region's 15 local communities, while enjoying the comforts, facilities and services of a 5- star boutique hotel on board with us in the middle of the Ecuadorian Amazon.
Passengers can socialize in the dining room, bar, observation deck with outdoor Jacuzzi, and in the al fresco lounge. There is also a small boutique where one can purchase souvenirs, or perhaps some vanity products that may have been left behind at home.
Our guests will be assisted by our 25-person crew, including a concierge, purser, paramedic, 4 skilled nature guides, and 4 local guides.
Location:
The Anakonda Amazon River Cruise departs from the port city of El Coca, Ecuador.  Coca has 3 daily flights from Quito, Ecuador's capital. The flights are 45 minutes long.
Dining:
Travelers on board the M/V Anakonda will enjoy a wide variety of national and international fusion cuisine. We take traditional and well-known cuisine from all over the world and adapt it using fresh, local products. It's not unusual for our guests to enjoy unique fare such as Quinoa Risotto or the famous "Encocado de Pescado" an exquisite fish prepared in coconut sauce.
Seasons:
The Anakonda Amazon River Cruise operates year round. Every trip is unique, based on the changing seasons. During the high water season, when the water levels of rivers and inlets grow, launch boats are able to venture deeper into the flooded forest. During the low water season, the river recedes to form beautiful sandy river beaches.

Accommodations:
Its 18 suites, each with an area of 172-258 square feet, feature sitting areas, large and comfortable beds, and wall-to-wall panoramic windows.are equipped with air conditioning and 24-hour electricity, each with a private bathroom with hot water and all necessary amenities, allowing our guests to enjoy their cruise with nothing to worry about. To accommodate families, Anakonda offers 2 sets of interconnected suites.
"Glamping" (Glamorous camping)
Is a new and unique product in the Ecuadorian Amazon, camping in the middle of the rainforest on a glomorous way, with all the commodities and nothing to worry about besides relaxing and enjoying the fauna and flora of the region. Each camp is fully sealed and above ground on a wooden platform equipped with comfortable beds, charming rustic furniture and superior service. Our guests will be able to enjoy gourmet meals, champagne and hot showers in our tented camp area after an exciting nature walk.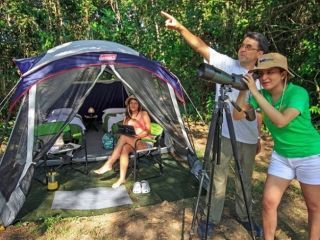 A fabulous and unique activity that can be the perfect complement to the cruise.
You may choose between several different camp sites, where you can enjoy and explore the beautiful rainforest and its incredible biodiversity of plants and animals, such as the black caimans or otters. In the evening, a local guide will tell you exciting stories about adventures and the way of life in the magical amazon region.
In the morning, travellers will go for a kayak excursion on the river and observe incredible wildlife. After a delicious breakfast, they will go back on board the Anakonda Amazon River Cruise.
This is an additional program, with a maximum capacity of up to 8 guests.
TECHNICAL SPECIFICATIONS  
| | |
| --- | --- |
| BUIL T: | 2013 |
| PORT OF EMBARKATION: | Coca, Ecuador |
| VESSEL'S REGISTRY: | Ecuador |
| TYPE OF VESSEL: | River Expedition Vessel |
| LENGTH: | 148 feet / 45 m |
| BEAM: | 30 feet / 9 m |
| DRAFT: | 5 feet / 1.5 m |
| GROSS TONNAGE: | 280 tons |
| CRUISING SPEED: | 12 knots |
| ELECTRICITY: | 110 / 220 volts |
| ENGINES: | 2 CUMMINS 435 HP Marine Engines |
| GENERATORS: | 2 x 80 KVA CUMMINS |
| WATER: | 10000 -liter water treatment plant |
| SAFETY: | GPS tracking by the Ecuadorian Navy, Radio communication with separate battery pack, satellite phone, life jackets, flares and signals, fire extinguishers, smoke detectors in each cabin. |
| LAUNCH BOATS: | 2 fiberglass ecologic canoes equipped with four-stroke low emission engines; constant radio communications with the main vessel. Each canoe has a capacity of 30 passengers. |
| CREW: | 25, including a purser, 3 English-speaking naturalist guides, 2 native guides, Captain, concierge and crew members |
| SUITES: | 18 Suite: 4 Deluxe Suites with private balconies / 14 Standard Suites (4 interconnected)- All outside-facing with large panoramic windows- All in-suite sitting areas- All with air conditioning system |
| SUITES FEATURES: | Full sized beds that can be converted to a queen-sized bed, bathroom with shower, toilet, sink, cabinet, hairdryer and a basket of toiletries, hot water available 24-hours. |
| SOCIAL  AREAS: | *Bar-Lounge / Conference room*Indoor Dining Room*Outside Lounge with "al fresco" dining facilities*Spacious sundeck with one outdoor Jacuzzi*Boutique |
DECK PLANS AND SPECIFICATIONS  

Main Deck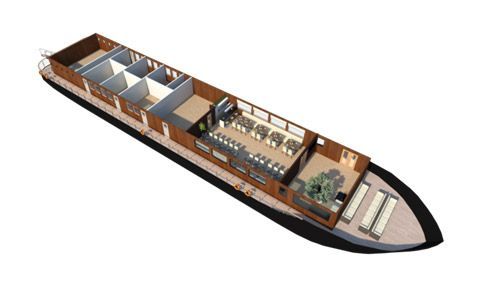 Second Deck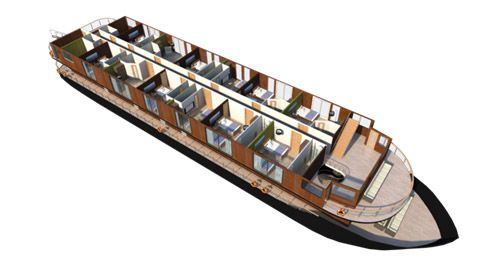 Third Deck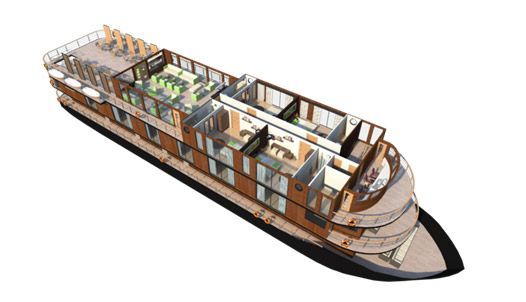 Sun Deck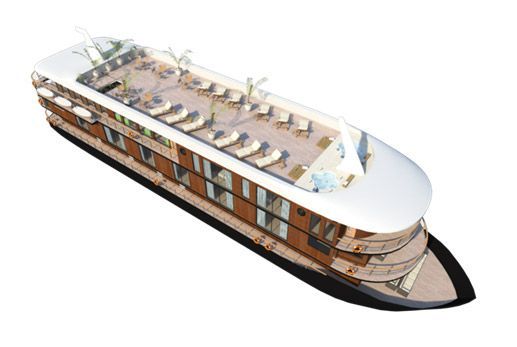 ITINERARIES
Our guests may choose from four, five and eight-day itineraries, each one of them with spectacular highlights that are sure to make every passenger's trip a memorable experience. On our 8D/7N itinerary, we visit Yasuni National Park, the Cuyabeno Wildlife reserve, and the Limoncocha and Pañacocha biological corridors, giving our passengers the opportunity to connect with the Ecuadorian Amazon and experience its wonders.
FOR RATES AND PROMOTIONS, PLEASE CONTACT US